Halloween: A Scary Time on the Roads for Trick-Or-Treaters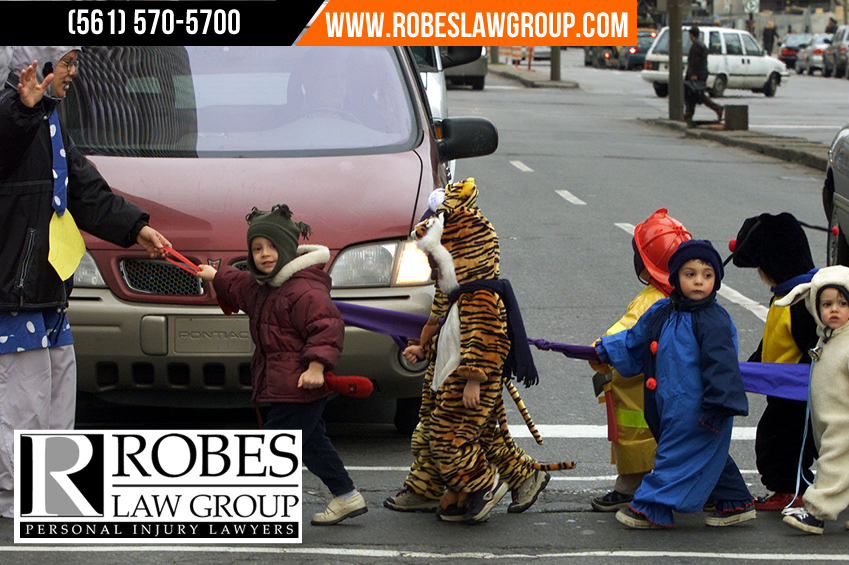 Thousands of children throughout Florida are anxiously awaiting Halloween night. While dressing up in costume and walking from house-to-house in search of candy may seem like harmless fun, in reality, it exposes children to a significant risk of injury. In fact, Halloween is consistently among the top three days for pedestrian injuries*, a fact that should spook all parents of children who plan to trick or treat this October 31.
 Fortunately, there are certain safety tips for parents and children that can help make trick-or-treating as safe as it can possibly be. Here are some are Halloween Safety Tips from the American Academy of Pediatrics:
Choose costumes that are reflective and bright. In addition, make sure your child's shoes fit correctly and that costumes are short enough to prevent them from catching on fire or getting caught up in your child's feet.
When possible, opt for makeup or decorative hats instead of masks, as masks can interfere with your child's visibility.
Parents or a responsible adult should always accompany young children when trick-or-treating.
All trick-or-treaters should carry flashlights with fresh batteries.
If you have older children that plan to trick-or-treat alone, map out a route with which you are comfortable
Only walk along well-lit streets and always use sidewalks.
Only cross the street at crosswalks and never cross between parked cars or from driveways.
Do not assume that you have the right of way. Drivers can often have trouble seeing trick-or-treaters.
Here's What to Do if Your Child Is Hurt This Halloween (or Any Other Day of the Year)
 While following these safety tips will reduce you and your child's risk of involvement in an accident, there is no way to account for the negligence of others. If an accident does occur, there are certain steps that you should take in order to protect your legal rights. Some of the most important include the following:
Call 911 and let them know that an accident has occurred. Do so will summon both police and emergency medical personnel to the scene. If a traffic violation caused your accident, the police will likely issue a citation, which can make it much easier to recover compensation. In addition, emergency medical personnel will evaluate any victims and determine whether further treatment is necessary.
Have your child undergo a thorough medical evaluation, even if emergency medical personnel determine that he or she does not need medical treatment. Many injuries may go unnoticed in an initial evaluation, and it's critical to your child's health that a healthcare professional identify any injuries he or she has sustained. In addition, obtaining documentation of your child's injuries is important if you choose to take legal action in the future.
Call a lawyer as soon as you can. The representation of a lawyer will protect your and your child's rights and help you obtain the compensation to which you are entitled under the law.
Call us today to request a free case evaluation
If you or your child has suffered an injury in a pedestrian accident or any other type of incident, you should contact Robes Law Group soon as possible. To schedule a free case evaluation, call our office today at (561) 570-5700 or use link below.