Child Booster Seat/Restraint Laws in Florida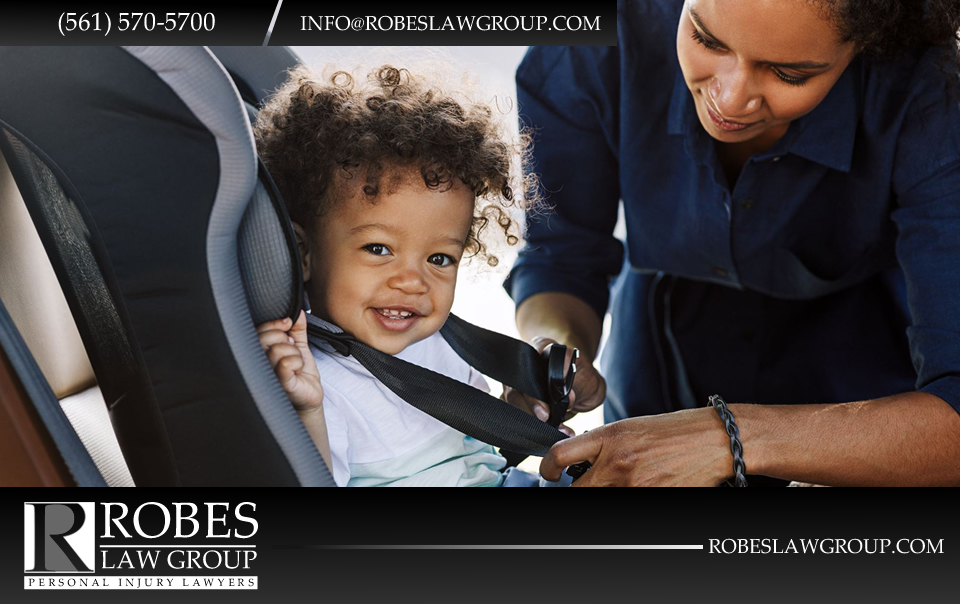 The child booster seat and restraint laws in Florida are designed to help reduce childhood injuries and deaths from traffic accidents. Children are unable to make decisions for themselves regarding their safety. Therefore, the legislature enacted laws to ensure parents and caregivers take steps to protect children in the event of a car crash.
HOW MANY CHILDREN ARE INJURED IN FLORIDA CRASHES?
Thousands of children are involved in car crashes each year in the Sunshine State. In 2019, the FLHSMV reported that 127,285 children were involved in car accidents. Of those children, 142 did not survive their injuries, and thousands more sustained serious bodily injury.
The Centers for Disease Control reports that the number one cause of death for children in the United States is unintentional injuries. The leading cause of death for children continues to be transportation injuries. Motor vehicle traffic accidents result in the highest death rates.
WHAT ARE THE FLORIDA CHILD BOOSTER SEAT AND RESTRAINT LAWS?
Florida child restraint laws state that all children under the age of 18 years must be restrained when riding in a motor vehicle. There are exceptions, such as motorcycles, school buses, mopeds, farm tractors, and trucks weighing more than 26,000 pounds.
The child restraint law is a primary enforcement law. Law enforcement can stop a vehicle for violating the child restraint laws, even though the driver has not committed any other crimes or traffic violations.
RECOMMENDATIONS FOR BOOSTER SEATS AND CAR SEATS
Florida requires that all children under the age of six be secured in a child restraint device. Children must ride in a vehicle's integrated child seat, or a separate carrier secured correctly in the vehicle from birth to age three.
Four- and five-year-old children can ride in a booster seat or a vehicle's integrated child seat. Parents should ensure that their child rides in a car seat or booster seat based on the child's weight and height.
The American Academy of Pediatrics issued guidelines for parents and caregivers regarding child car seats and booster seats. The AAP recommends children remain in a rear-facing car seat until they exceed the manufacturer's recommended height and weight restrictions. The same is true for front-facing car seats and booster seats.
Children should only transition to a seatbelt when they are tall enough for the seatbelt to fit correctly across their lap and chest. Until then, it is recommended that parents use a child restraint system or child booster seat.
It is also recommended that children remain in the back seat until they are at least 12 or 13 years old. The back seat is considered safer for a young child in the event of a car accident.
ARE CHILDREN ENTITLED TO COMPENSATION FOR A CAR ACCIDENT?
The days following a car crash can be overwhelming. You are angry because a negligent driver injured your child. You are worried about your child's health and recovery.
Your child's health should be your top priority. However, when your child is stable, you may want to consider their legal rights regarding the car accident.
Children are entitled to compensation for their injuries and damages caused by a car accident. While a child cannot file a personal injury lawsuit or enter a settlement agreement, parents and guardians can do so on their behalf.
Your child may be entitled to compensation for damages, including:
The cost of personal care and medical care following the accident
Physical pain and suffering
Permanent impairments, disfigurement, scarring, and disabilities
Mental trauma and emotional suffering
Future loss of income or decreases in earning capacity because of a permanent disability
Loss of enjoyment of life
Decrease in quality of life
A child who sustains a permanent impairment or brain injury may experience physical, emotional, and cognitive delays or impairments. It is important to determine the extent of your child's injuries to value your child's personal injury claim correctly.
DO I NEED A LAWYER TO FILE AN INJURY CLAIM FOR MY CHILD?
You are not required to hire a personal injury lawyer to file a claim for your child. However, child injury cases are complicated. Depending on the circumstances, you may be required to obtain court approval of a settlement agreement. You also may be required to hold the funds in a special account under specific restrictions.
Having a lawyer guide you through the process of filing and settling a car accident claim for your child can be invaluable. An attorney ensures that the settlement is fair based on the facts of the case. If the other party refuses to agree to a fair settlement, your lawyer can discuss filing a personal injury lawsuit to protect your child's best interests.

The information contained in this blog is merely for informational purposes and is not intended as legal advice.